"Where are we going?" 
 As a child, I (Missy) remember going with my parents to run errands. It was a rather boring, routine trip. I would get in the car and dad would take the same roads – I could count the turns and know exactly where we were with my eyes closed.  
After a while, I dreaded going on errands with my parents until one day my dad got spontaneous on the way home and took a different road. 
Confused, as I thought (or rather hoped) we were done shopping for the day, I asked, "where are we going?".  
"Home." my dad said nonchalantly.  
But this isn't the normal way! My dad took "the scenic" route home. Up and down hills, S-curves, and unknown intersections, my dad would make my tummy tickle, feel like a ragdoll, and had me wonder which way we'd go next.  
It was a refreshing change that my dad continued every time. What was once a routine trip home turned into an adventure and something that I will always remember.  
Forward Cody was established 15 years ago and has been focused on economic development and community improvement ever since. They have been so dedicated and busy helping local and incoming businesses become successful and assisting with community improvement projects that they have not had much time to share their stories, achievements, or project updates.  
It has become a routine trip.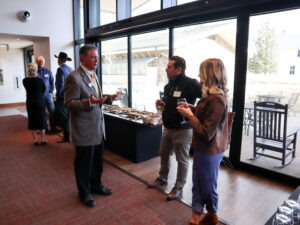 We're ready to switch things up a bit on our journey forward. Nothing is changing as far as our destination or focus is concerned – but we're going to make the journey more entertaining! 
Our mission is always going to be helping "people, jobs, and progress" and we will continue doing what we do best in that regard. But we've realized that telling our story, sharing our accomplishments, being transparent and forthcoming with our community has not been our strong suite and we're ready to strengthen that!  
Where are we going? Still the same place – just taking a more scenic route. We look forward to continuing the journey with you to grow and keep our wonderful community in Cody thriving!  
If you'd like to learn more about what we're doing to add more value to our memberships or if you'd like to join us in our efforts in maintaining a vibrant economy, please contact me (Missy Burns) at [email protected] or call us at 307-587-3136.  
Be sure to join us on social media! We're on Facebook and Instagram sharing updates and engaging with our community!