Community matters!
It is true that the people represent the heart and soul of a community. They can even define the community's "sense of place" as well. But how can we define the vibrancy of a community?
The vibrancy of a community is not something you simply see, it's also something that you hear, smell, and feel. When it's right, it's right.
Cody seems to have a strong sense of vibrancy. We hear it often from visitors to our community. So, what is it that makes it so? Is it the American flags lining the main street? Awesome historical storefronts? The Museum or the Irma Hotel? Perhaps it's the clean and well-maintained public infrastructure? Chances are it's more than any one of these things. But rather, it's a blending of all of these and a whole bunch more.
As you reflect upon what you really like about Cody, and maybe a few things you don't, consider their role in the bigger picture.
As an example, Cody has quite a few city parks. Even if you don't spend a lot of time in them, it's hard to discount the value they provide to the many families that do. The same holds true for other defining features of our community such as the Rec Center, the Library, the Hospital or even the new bronzes scattered around town. Each of these features speaks volumes to the people who pass through our community. For our community, the sum of the parts is much greater than the whole.
Cody didn't gain this sense of vibrancy overnight. Somewhere in our history, the citizenry reflected on the community what they liked and what they felt was needed to make it even better. Through their vision, their engagement, their hard work, and dedication, we enjoy today that which they created.
Our forebearers paid it forward. They saw what had been done for them and they wished to make it better for future generations.
Forward Cody has a strong passion to continue to pay it forward in order to maintain and improve Cody's vibrancy. Together with our community (including our members), we're able to facilitate many positive projects that have been completed and are still in progress.
For the past 15 years that Forward Cody has been in Cody, they have seen their share of bumps along their journey. But that hasn't stopped them from continuing on to work for our community in order to keep it thriving.
By joining Forward Cody as a member, through our combined vision, engagement, hard work, and dedication, we can work as a team to continue to create something our next generation will enjoy.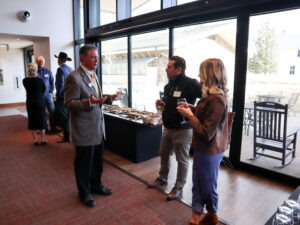 Contact us today to learn more about how we can help you!
307-587-3136
1130 Sheridan Avenue, Cody, WY 82414
or email [email protected]