One of the most interesting results of the pandemic was the recognition that everyone doesn't need to be nailed down in an office.  During the waning months of 2019, we were having conversations about a coworking space.  These spaces are basically a desk for rent for a day, week, or month which afford the user a workspace and some simple amenities like the internet. 
The program goal was to develop a place where people wanting to do business could go, get assistance, meet other entrepreneurs and move their projects forward.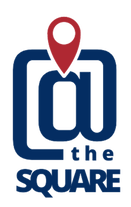 During the summer of 2020, Forward Cody made use of the AmeriCorps VISTA volunteer program to carry out the planning and implementation of the space in Cody. The VISTA program was made available through our neighbors and colleagues at the Powell Economic Partnership.   Vista volunteer Wiley Reid kicked off the program with an intensive design and layout process.  As an art major, it is easy to see his personal flair involved along with a local theme.  By Fall 2020, the @ the Square Coworking Space and Entrepreneurship Center space was ready for use.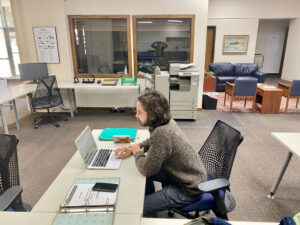 The response was immediate with a handful of entrepreneurs joining immediately. The early part of 2021 saw the space work through space changes and operating guidelines. By year-end 2021, @ the Square had 7 full members and a handful of occasional users.  A new AmeriCorps Vista, Gretchen Sciortino arrive in June 2021 and really put the polish on the operating guides and the promotion of the space 
The Space continues to adapt and innovate based on the needs of users – which is what entrepreneurs do!  
Learn more about @TheSquare by following them on Facebook!
[email protected]
(307) 578-7462
Summer Hours are 8am to 5pm, Monday through Friday.
This is just one more way Forward Cody works for our community to provide the needed resources for our economy and businesses to grow!
If you'd like to learn more about what else Forward Cody is doing for our local businesses, please contact us today!
307-587-3136
[email protected]
1130 Sheridan Ave.
Cody, Wyoming 82414